Aesthetic Injections and Treatments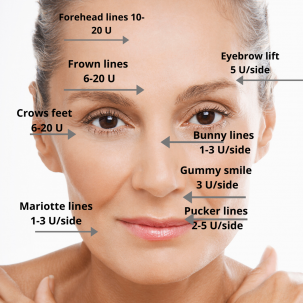 Dr. Shalini Hitkari, ND is now offering aesthetic treatments, including neuromodulators (in Canada sold as Botox, Xeomin, Nuceiva or Dysport) as well as other cosmetically focused products and services. Dr. Hitkari's focus is to help her patients achieve a natural-looking result. Treatment involves the injection of a neuromodulator to help relax the muscles that cause wrinkles.

Appointments are approximately 20 minutes in length but can vary. Dr. Hitkari will review with you your treatment goals and will complete an assessment of your face. A plan will be discussed with you and a plan will be decided upon together. Dr. Hitkari's approach is less is more and she is happy to work with you and your budget.
It can take anywhere from 3-14 days for the neuromodulator to start to take effect and although results can vary, the effect may last approximately 2-4 months. Post-treatment patients may experience a mild headache, tingling and or mild bruising. Risks, benefits and side effects will be reviewed with you during your consultation.

As Dr. Hitkari believes in comprehensive skincare and overall well being, she also offers more comprehensive Naturopathic consultations focused on nutrition, lifestyle and skincare to further help you achieve your goals. Book an appointment or free meet and greet today!
*Units (U) in picture above are for information purposes only and the units required can very per patient.