Naturopathic Prenatal Care

Naturopathic Pregnancy Support Program
Congratulations on your pregnancy! Our Mommy to be Program offers you and your family an integrated approach to a Healthy Pregnancy. Our Naturopathic Physicians offer prenatal dietary and supplementation counselling, recommendations regarding the safe use of botanical medicines for pregnancy related ailments and prenatal acupuncture to address ailments from morning sickness, headaches, aches & pains to the support of the developing baby. We can assist you in managing many pregnancy related ailments should they arise. We work in collaboration with your primary care maternity physician, midwife or your Obstetrician. A Mother-to-be can be enrolled into our program at any point throughout her pregnancy. Contact reception for further guidance.
*Our Naturopathic Doctors are happy to work in collaboration with your primary maternity provider to offer collaborative Naturopathic care; please be aware they do not deliver babies or offer primary maternity care.
Recommended Naturopathic Prenatal Care Schedule
Our main program consists of five main prenatal appointments throughout the duration of your pregnancy. Additional appointments maybe added if pregnancy related ailments arise or as required.
Initial Prenatal Consultation (APIC)
This visit includes a complete prenatal and mother to be health history. We will provide you with recommendations for maternity care providers and introduce you to an overview of pregnancy from a positive pregnancy test to delivery.
Prenatal Second Consultation (APSC)
This visit includes a physical exam to ensure optimal maternal health. We will make dietary and supplement recommendations as well as offer Naturopathic treatments for common pregnancy related ailments such as nausea of pregnancy, fatigue, headaches, constipation, varicose veins, depression and anxiety.
Pregnancy Support Acupuncture (APFV30A)
We offer acupuncture for most pregnancy related ailments, for a history recurrent pregnancy loss and to support the growth and development of your baby.
Week 13 Second Trimester Follow-Up Visit (APFV20)
During this visit we will complete a well mommy exam, monitor weight gain, address any concerns or ailments with naturopathic therapies which may have arisen in the first trimester and offer dietary recommendations to help prevent gestational diabetes and hypertension of pregnancy. Laboratory testing may be recommended to assess nutrition and health. You will be provided with a Birth Wish Planning Worksheet and recommendations for prenatal classes.
Week 27 Third Trimester Follow-Up Visit (APFV20)
During this visit we will complete a well mommy exam, review your Birth Plan with you, address any ailments which may have arisen in the second trimester such as headaches, sciatica, acid reflux, constipation, PUPPS, fatigue, iron deficiency, depression etc. with Naturopathic therapies and provide you with postpartum education and breastfeeding counselling.
Week 32 Third Trimester Follow-up Visit (APFV20 optional)

During this visit we will discuss preparation for home or hospital birth and provide you with educational resources to learn about breastfeeding

Week 37 Labour Preparation Follow-Up Visit (APFV30)
During this visit we will offer you Naturopathic recommendations for labour support and preparation. We will further focus on postpartum nutrition & wellness and breastfeeding support.
Prenatal Massage
We recommend a monthly massage therapy appointment with our Massage Therapist to prevent pregnancy related aches & pains and to allow the body to naturally prepare for the birthing process. We offer specialized pregnancy pillowing allowing you to enjoy a massage "belly down" throughout your entire pregnancy.
---
Naturopathic Labour Preparation and Support Services
Acupuncture for Cervical Ripening and Labour Preparation Week 38-42
We offer acupuncture and Naturopathic treatments for cervical ripening and to support the natural progression o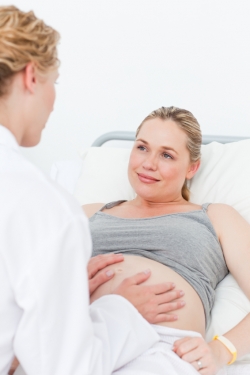 f labour starting week 37 of your pregnancy. Treatment options include acupuncture, traditional botanical medicines and to assist with cervical ripening and the onset and progression of labour. Our Naturopathic Physicians will work with you and your maternity care provider to offer collaborative Naturopathic therapies support your body though the birthing process and to help you create the birthing environment that is right for you. Our Naturopathic Doctors offer invaluable supportive care in labour.
Naturopathic Induction Support Package (PREGINDPKG)
This package offers six 30 minute acupuncture treatments to support cervical ripening and preparation of the body for labour starting week 37+. Visits are weekly for week 37 and 38, twice weekly week 39 and daily week 40+. Labour support acupuncture treatments start at week 40. If more than six treatments are required they are free.
*Our Naturopathic Physicians are not primary care maternity physicians. They are happy to work in adjunct with your primary maternity care physician providing Naturopathic treatments for mommies to be. They do not offer primary care for pregnant mothers nor do they deliver babies.
We also offer the following natural labour support & pain management therapies including:
naturopathic supportive care and counselling
acupuncture for pain and labour support of progression
physical medicines for pain management
botanical medicines for labour preparation, anxiety, pain and support of labour progression
massage for pain management
breastfeeding counselling
postpartum recovery and wellness therapies

---
Mommy to Be Care Packages
Naturopathic Labour Support Package (PREGLDPKG):
This package includes complete supportive care for a mommy to be. This package includes a meet & greet visit with you and your partner to review the "Birth Plan" you have created with your primary care physician. This package includes on-call services, support and Naturopathic counselling through out labour, Naturopathic adjunctive therapies to assist with pain management and labour progression. Treatments are in addition to the care you are receiving from your maternity care physician . This package includes one postpartum visit at home for both mother and baby, pericare herbs and Weleda Lactation Tea. * Upon booking, payment of this package fee must be made in full. This package has a $450 non-refundable deposit for reservation of labour care.
Complete Naturopathic Prenatal Care Package (PREGCOMPKG)
This plan includes both the Naturopathic Induction Support Package and the Naturopathic Labour Support Package with an additional $100 savings.
Naturopathic Post Partum Home Visit (PREGPOSTHM)
Our post partum visits are designed to support the wellness of mom and baby during the immediate post partum period. Each home visit is up to a 1.5 hours and includes a physical exam for mom, well child exam for baby, breastfeeding counselling and support, assessment and education for post partum depression, natural pericare to improve healing and sleep support. The Naturopathic Doctor will also recommend an individualized supportive supplementation plan, botanical medicines, acupuncture or a post partum diet plan as needed.